01

Potrošnja goriva u l/100 km (kombinovano): 4,8–4,6

02

Emisije CO2 u g/km (kombinovano): 126–121

03

Prvi put dostupan sa paketom M Sport X

04

Izuzetna dinamičnost vožnje i moćni motori

05

Inovativni operativni koncept i nesmetana konektivnost
I DALJE JEDINSTVEN.
Pojedinosti dizajna eksterijera.
Novi BMW X2 sledi sopstveni put – i to sasvim jasno pokazuje. Njegov ekstrovertni oblik u kombinaciji sa dinamičnim konturama daje mu ekstremno sportski karakter kupea. Istovremeno, impresivne proporcije i jedinstven inovativni dizajn obezbeđuju mu izuzetnu pojavu. Idealan za sve koji žele da istražuju nove puteve.

Pročitajte više
ALWAYS ONE STEP AHEAD.
BMW Connected+.
Thanks to innovative BMW Connected+ Services of the BMW Connected App in the BMW X2, you always enjoy an optimum connection between smartphone and vehicle. Regardless of whether you plan appointment and routes and send them to the navigation system, share your current position with others in real time or want your smartphone to display the remaining journey on foot once you reach your destination. Experience an app that simplifies your life – BMW Connected makes it possible.

Pročitajte više
400 NM
maksimalnog obrtnog momenta od BMW TwinPower Turbo 4-cilindarskog dizel motora BMW X2 xDrive20d koji je ovde predstaavljen pruža direktnu reakciju, vrhunsku snagu vuče i uzbudljivo ubrzanje.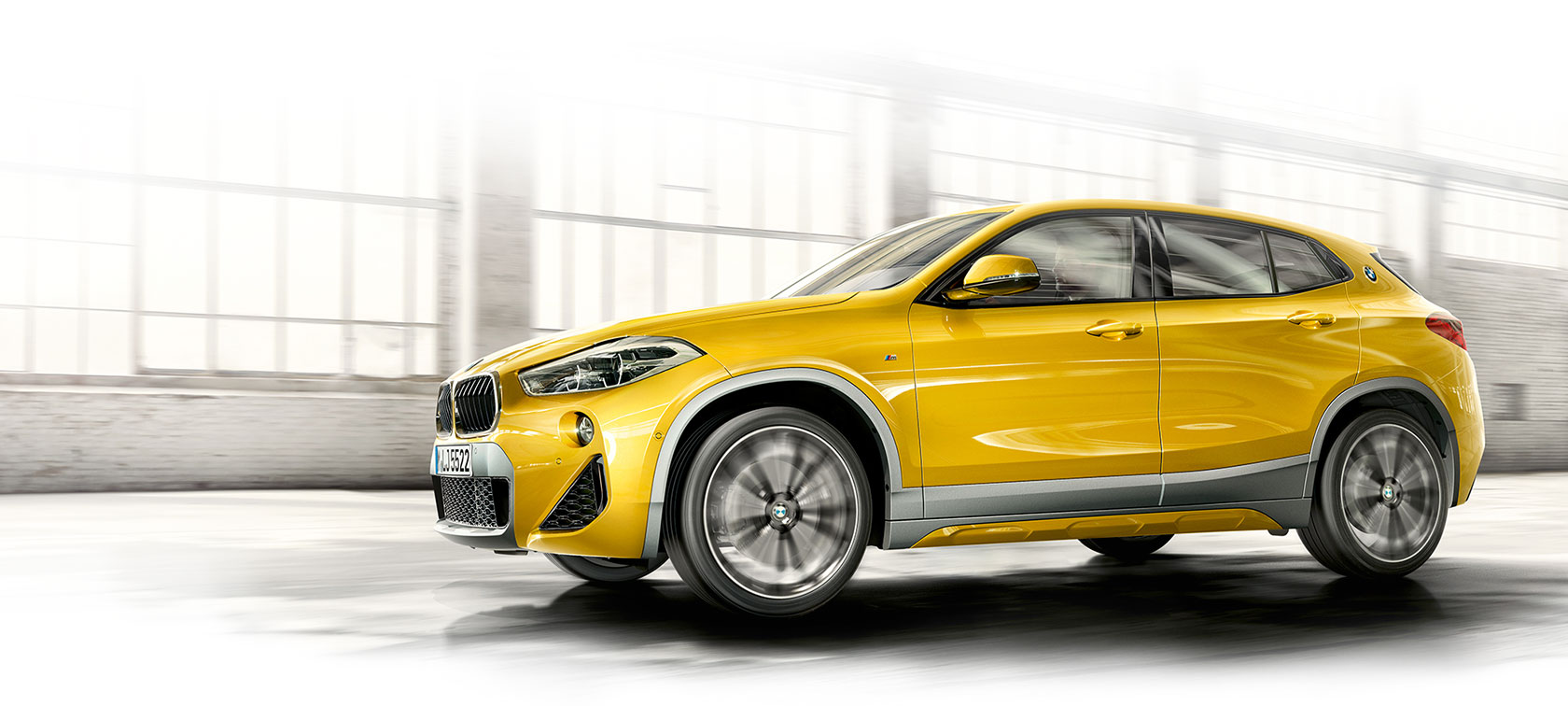 UVEK PREDNJAČI. NIKAD NE ZAOSTAJE.
Moćni motori. Direktno upravljanje. Opcionalno M sport oslanjanje. Upravljanje visoke preciznosti koje postavlja standarde u klasi. Za žustru dinamičnost i živahnu agilnost – bilo za sprint ili za duge udaljenosti, gradsku vožnju ili krivudave seoske puteve. A sve se ovo može dodatno pojačati opcionalnim sistemom pogona na sva četiri točka BMW xDrive. To novom modelu BMW X2 daje izuzetnu vuču i stabilnost, pa mu omogućava da savladava čak i najoštrije krivine kao da je vođen šinama. Trkački puls je obezbeđen – za svakoga ko je za njega spreman.

Pročitajte više
UVEK PREDNJAČI. NIKAD NE ZAOSTAJE.
Dinamičnost vožnje.
​
Potrošnja goriva i emisije CO2.
Prikazane vrednosti potrošnje goriva, emisija CO2 i potrošnje električne energije utvrđene su u skladu sa Evropskim propisom (EC) 715/2007 u aktuelnoj primenjivoj verziji. Vrednosti se odnose na vozilo sa osnovnom konfiguracijom u Nemačkoj, a prikazani raspon uzima u obzir opcionalnu opremu i različite veličine točkova i guma dostupnih za odabrani model i može varirati za vreme konfigurisanja.

Specifikacije efikasnosti CO2 utvrđuju se u skladu sa Direktivom 1999/94/EC i evropskim propisima u aktuelno primenjivoj verziji. Prikazane vrednosti zasnovane su na potrošnji goriva, vrednostima CO2 i potrošnji energije u skladu sa ciklusom NEDC za klasifikaciju.

Više informacija o zvaničnoj potrošnji goriva i specifičnim emisijama CO2 za nove putničke automobile možete naći u "priručniku za potrošnju goriva, emisije CO2 i potrošnju energije za nova putnička vozila", koji je dostiupan na svim prodajnim mestima i na adresi https://www.dat.de/angebote/verlagsprodukte/leitfaden-kraftstoffverbrauch.html.