BMW X5: TEHNIČKI PODACI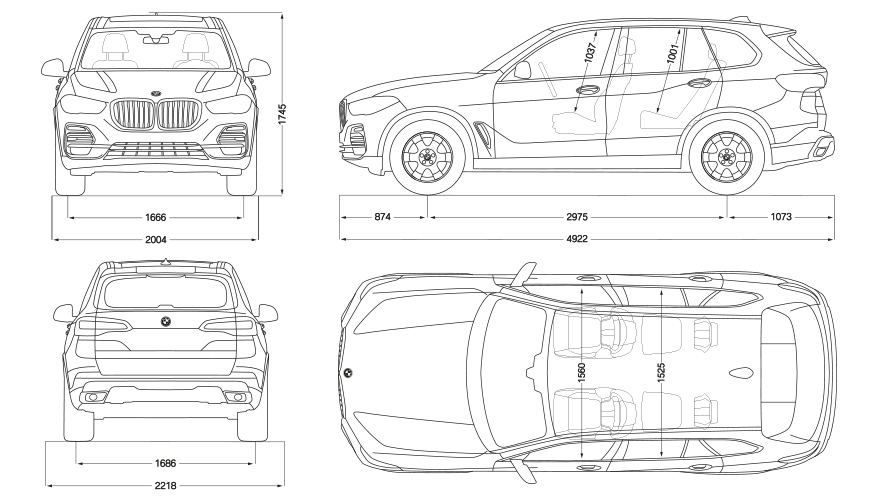 Weight/Težine

| | |
| --- | --- |
| Masa praznog vozila EU u kg | 2.135 |
| Maks. dozvoljena težina u kg | 2,800 |
| Dozvoljena nosivost u kg | 740 |
| Maksimalno osovinsko opterećenje napred/nazad u kg | 1,280/1,580 |
| Zapremina prtljažnika min. (podignuta sedišta ili spušten krov) u l | 650 |
| Zapremina prtljažnika maks. (podignuta sedišta ili spušten krov) u l | 1,870 |
| Nosivost prikolice (bez kočnica) u kg | 750 |
| Nosivost prikolice 8% (sa kočnicama) u kg | 2.5 |
| Nosivost prikolice 12% (sa kočnicama) u kg | 2.5 |
Engine/Motor

| | |
| --- | --- |
| Cilindara/ventila | 6/4 |
| Zapremina u ccm | 2,998 |
| Prečnik/hod klipa u mm | 94,6/82,0 |
| Snaga motora u kW (KS) pri 1/min | 250 (340)/5,500-6,500 |
| Obrtni moment (Nm) pri 1/min | 450/1,500-5,200 |
| Stepen kompresije : 1 | 11.0 |
Performance/Performanse

| | |
| --- | --- |
| Maksimalna brzina u km/h | 243 |
| Ubrzanje 0–100 km/h u s | 5.5 |
Fuel consumption/Potrošnja goriva

| | |
| --- | --- |
| U gradu u l/100 km | 10.8-10.4 |
| Na otvorenom u l/100 km | 8.2-7.4 |
| Kombinovano u l/100 km | 9.1-8.5 |
| Kombinovana emisija CO2 u g/km | 207-193 |
| Kombinovana potrošnja el. energije u kWh/100km | - |
| Kapacitet rezervoara, pribl. u l | 83 |
Wheels/Točkovi

| | |
| --- | --- |
| Dimenzije prednjih točkova | 265/50 R19 110W XL |
| Dimenzije zadnjih točkova | 265/50 R19 110W XL |
| Dimenzije i materijal prednjih točkova | 9 J x 19 inča, laki, alu |
| Dimenzije i materijal zadnjih točkova | 9 J x 19 inča, laki, alu |
Range and charging / Domet i punjenje

| | |
| --- | --- |
| Električni domet u km | - |
| Kapacitet rasta litijum-jonske baterije u kWh | - |
| Vreme punjenja 3,7 kW/16 A, BMW i Wallbox (80 %) h | - |
| Vreme punjenja 3,7 kW/16 A, BMW i Wallbox (100 %) h | - |
Electric engine / Elektromotor

| | |
| --- | --- |
| Snaga elektromotora kW (KS) pri 1/min | - |
| Moment elektromotora (Nm) pri 1/min | - |
Combined system power / Kombinovani agregat

| | |
| --- | --- |
| Kombinovana snaga u kW (KS) | - |
| Kombinovani moment sile u Nm | - |
FUEL CONSUMPTION AND CO2 EMISSIONS.
BMW X5 xDrive40i:
Fuel consumption in l/100 km (combined): 9.1–8.5
CO2 emissions in g/km (combined): 207–193

The information on fuel consumption, CO2 emissions and energy consumption has been determined in accordance with the prescribed measurement procedure VO (EU) 715/2007 in the version applicable at the time of type approval. The figures refer to a vehicle with basic configuration in Germany and the range shown considers optional equipment and the different size of wheels and tires available on the selected model.

Further information about the official fuel consumption and the official specific CO2 emissions for new passenger automobiles can be found in the 'New Passenger Vehicle Fuel Consumption and CO2 Emission Guidelines', which are available free of charge at all sales outlets and from DAT Deutsche Automobil Treuhand GmbH, Hellmuth-Hirth-Str. 1, 73760 Ostfildern, Germany and on https://www.dat.de/co2

The values are already based on the new WLTP regulation and are translated back into NEDC-equivalent values in order to ensure the comparison between the vehicles. For vehicle related taxes or other duties based (at least inter alia) on CO2-emissions the CO2 values may differ to the values stated here.

Pročitajte više
​
Potrošnja goriva i emisija CO2
BMW X5 xDrive40i:
Potrošnja goriva u l/100 km (kombinovano): 9.1–8.5
Emisija CO2 u g/km (kombinovano): 207–193

Informacije o potrošnji goriva, emisijama CO2 i potrošnji energije utvrđene su u skladu sa propisanom procedurom merenja VO (EU) 715/2007 u verziji primenjivoj u vreme tipskog odobrenja. Vrednosti se odnose na vozilo sa osnovnom konfiguracijom u Nemačkoj a prikazani raspon uzima u obzir opcionalnu opremu i različitu veličinu točkova i guma dostupnih za odabrani model.

Više informacija o zvaničnoj potrošnji goriva i zvaničnim specifičnim emisijama CO2 za nove putničke automobile možete naći u "Smernicama za potrošnju goriva i emisije CO2 za nova putnička vozila" koje su dostupne besplatno na svim prodajnim mestima i od DAT Deutsche Automobil Treuhand GmbH, Hellmuth-Hirth-Str. 1, 73760 Ostfildern, Nemačka, te na adresi https://www.dat.de/co2

Vrednosti su već zasnovane na novim WLTP propisima i prevedene natrag u NEDC-ekvivalentne vrednosti kako bi se osiguralo poređenje između vozila. Za poreze u vezi sa vozilima i ostale dažbine zasnovane (makar između ostalog) na emisijama CO2, vrednosti CO2 mogu se razlikovati od onih koje su ovde navedene.