BMW POPRAVKA MANJIH OŠTEĆENJA I BRIGA.
Mali poslovi. Velika radost.
Udarci kamenčića u vetrobran staklo, mala ulubljenja na braniku, ogrebotine unutar vozila. Sve ovo se lako može desiti ako puno koristite vaš BMW automobil. Ali ovakva neizbežna habanja se lako uklanjaju – uz pomoć nove BMW popravke manjih oštećenja.
Specijalne tehnike za staklo, plastiku i unutrašnje površine, specijalno razvijene od strane BMW profesionalaca – i vaš BMW automobil izgleda kao nov. Na ovaj način ćete uštedeti puno novca: BMW popravka manjih oštećenja nije skupa i na taj način izbegavate ozbiljnu štetu i samim tim skuplje popravke i zadržavate preprodajnu vrednosti vašeg BMW automobila.

Read more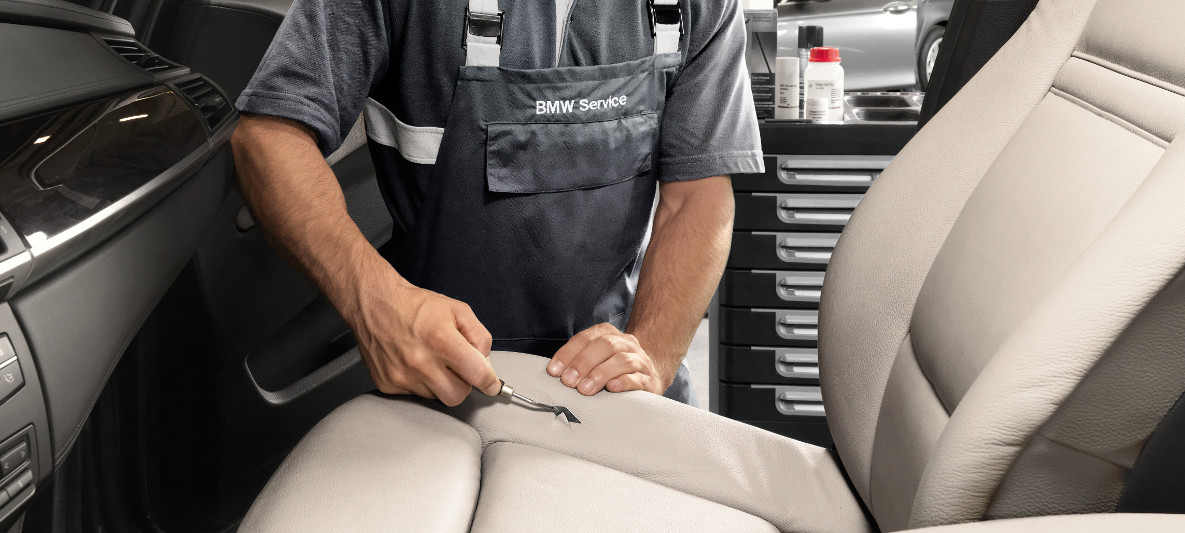 BMW POPRAVKA UNUTRAŠNJOSTI.
Uz pomoć BMW popravke unutrašnjosti, prorezi i izgorele rupe na sedištima se lako mogu popraviti sa istim BMW kvalitetom kao i popravka malih unutrašnjih oštećenja, kao što su rupe od burgija na plastičnim delovima.
Trenutak nepažnje može ostaviti trajne posledice na kožu i ostale materijale unutar vozila. Plastični delovi unutrašnjosti se takođe mogu lako izgrebati. Uz pomoć BMW popravke unutrašnjosti, takva oštećenja se mogu lako i brzo otkloniti uz tipičan BMW kvalitet.

BMW popravka unutrašnjosti se koristi za:
- Ogrebotine
- Izbleđianje boje i prljavtšinu
- Rupe do prečnika od 15 milimetara
- Procepi do 40 milimetara dužine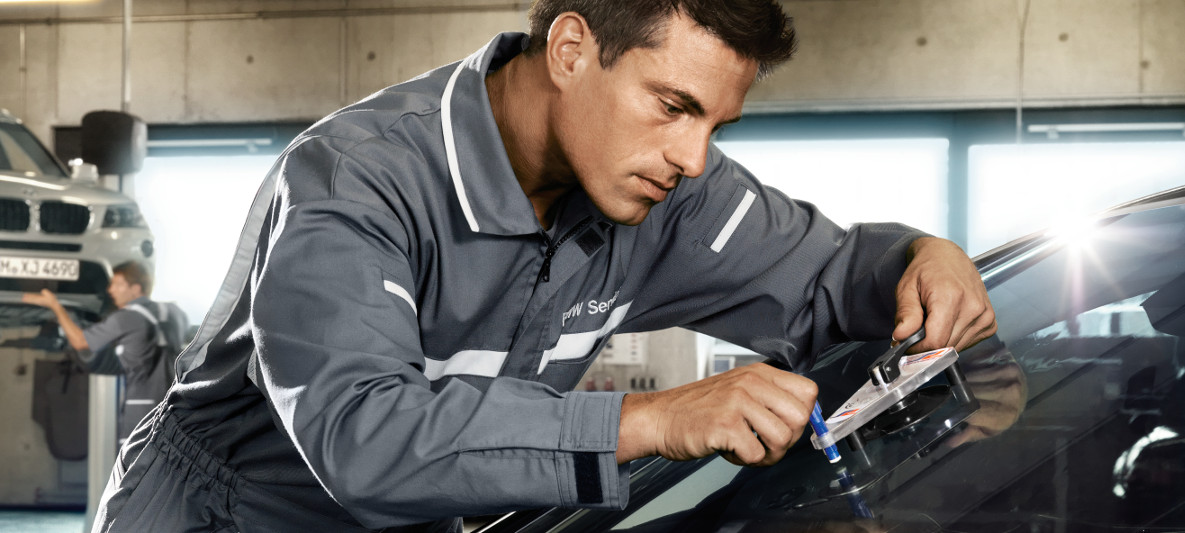 BMW POPRAVKA STAKLA.
Manja oštećenja na prednjem vetrobran staklu ne samo da nerviraju nego znaju biti i opasna. Pukotina se može brzo formirati i vetrobran staklo mora biti zamenjeno. Besplatna BMW popravka stakla može to sprečiti. BMW serviseri brzo i pouzdano rešvaju oštećenja na staklima. Ako popravka nije moguća, novo, orginalno BMW staklo se može ubaciti.

Prednosti popravke stakla

Uz pomoć BMW popravke stakla imate na respolaganju iskustvo i stručnost naših specijalno obučenih BMW servisera.


Pogodnosti na prvi pogled:
- Popravke stakla obično ne traju više od 60 minuta
- Popravka je obično besplatna ako imate sveobuhvatno osiguranje
- Vaš BMW Servisni partner naplaćuje popravku direktno od vaše osiguravajuće kuće
- Komplet za popravku i smola koja se koristi u popravci su specijalno razvijeni za BMW vetrobran stakla
- Popravka pomaže u održavanju preprodajne vrednosti vašeg BMW vozila


Zahtevi za popravku stakla

Vaš BMW Servisni partner može popraviti do 70% oštećenja stakala brzo i povoljno. Inovativne tehnike i kvalitetni materijali sprečavaju formiranje pukotina i poboljšavaju stabilnost vašeg vetrobran stakla.


Uslovi za uspešnu popreavku su:
- Prečnik udarca (manji od novčića od 2 EUR)
- Udarac nije na u direktnom polju vozača
- Udarac je barem deset centimetara od ivice vetrobran stakla
- Kontaktirajte vašeg BMW partnera odmah nakon udarca jer prljavština nije moguća ukoliko prljavština prodre u oštećenu oblast.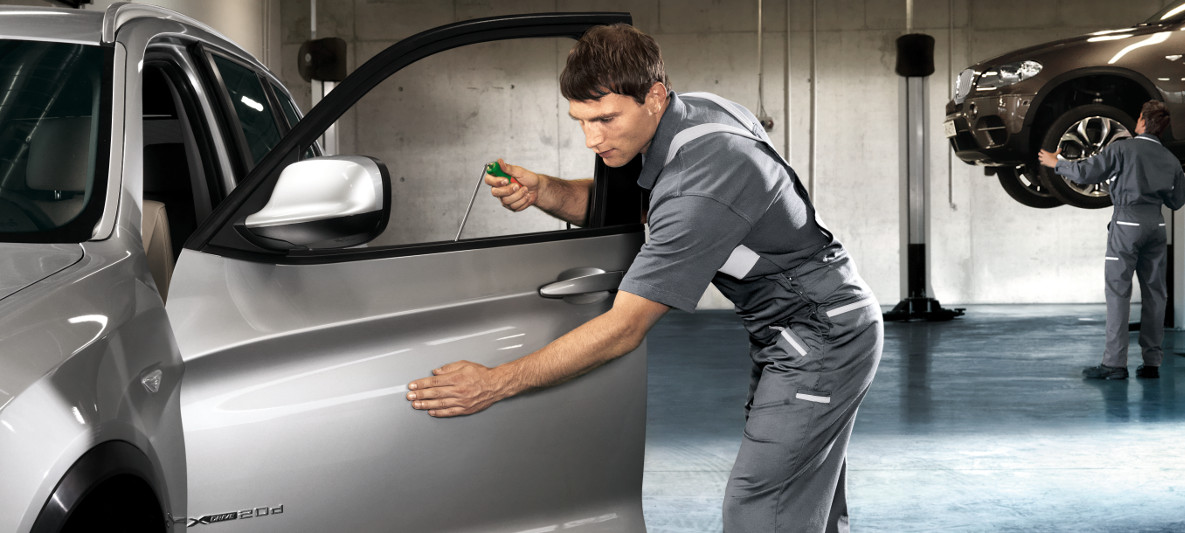 BMW POPRAVKA ULUBLJENJA.
Mali trenutak nepažnje može uzrokovati ulubljenje vašeg vozila. Sa BMW popravkom ulubljenja možete rešiti oštećenja limarije jeftino i bez potrebe za ponovnim farbanjem.
Takođe možete koristiti usluge koje vam nudi BMW Servisni partner ako grad ošteti vaše vozilo. Serviser može otkloniti ili ispeglati mala ulubljenja koristeći inovativne metode popravke i postići savršen rezultat – sa tipičnim BMW kvalitetom.
BMW popravka ulubljenja su naročito pogodna za:
- Oštećenja od grada ili ulubljenja, iskrivljenje ili zgužvane delove
- Ulubljenja koja nisu oštetila orginalnu boju
- Oštećenja sa prečnikom manjim od 60 milimetara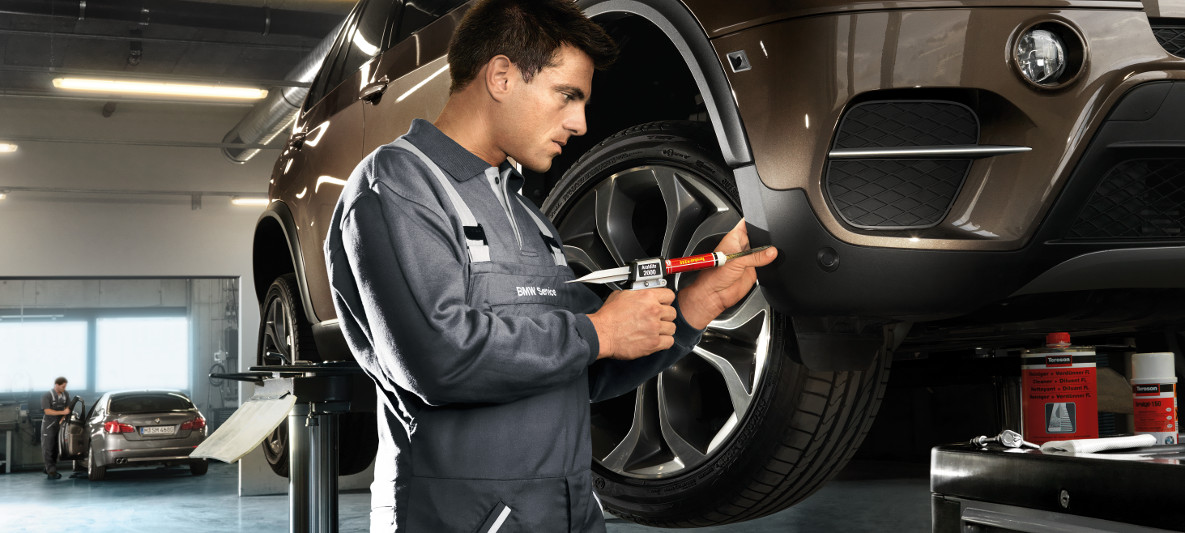 BMW POPRAVKA PLASTIKE.
Dodatna vrednosti i radost po veoma povoljnim uslovima – to je nova BMW popravka plastike: specijalno razvijen proces popravke manjih oštećenja branika i ostalih plastičnih delova karoserije BMW automobila.
Ovih dana plastika je veoma bitna za funkcionisanje i dizajn bilo kog BMW automobila. Može se svakome desiti: na višespratnoj garaži ili tokom svakodnevne vožnje. Ogrebotine, procepi i male rupe se dogode u trenutku ali utiču na izgled i vrednost vašeg BMW automobila. Naš BMW servisni tim ima inovativno i jeftino rešenje na ove sitne probleme: nova BMW popravka plastike. Jednostavno. Dodatna vrednost. Više radosti.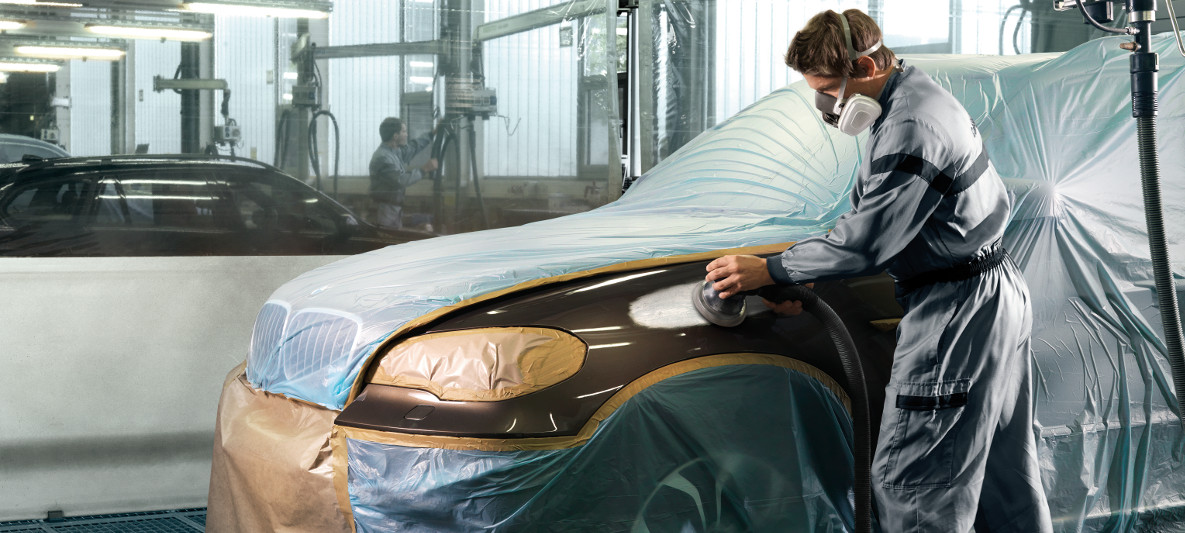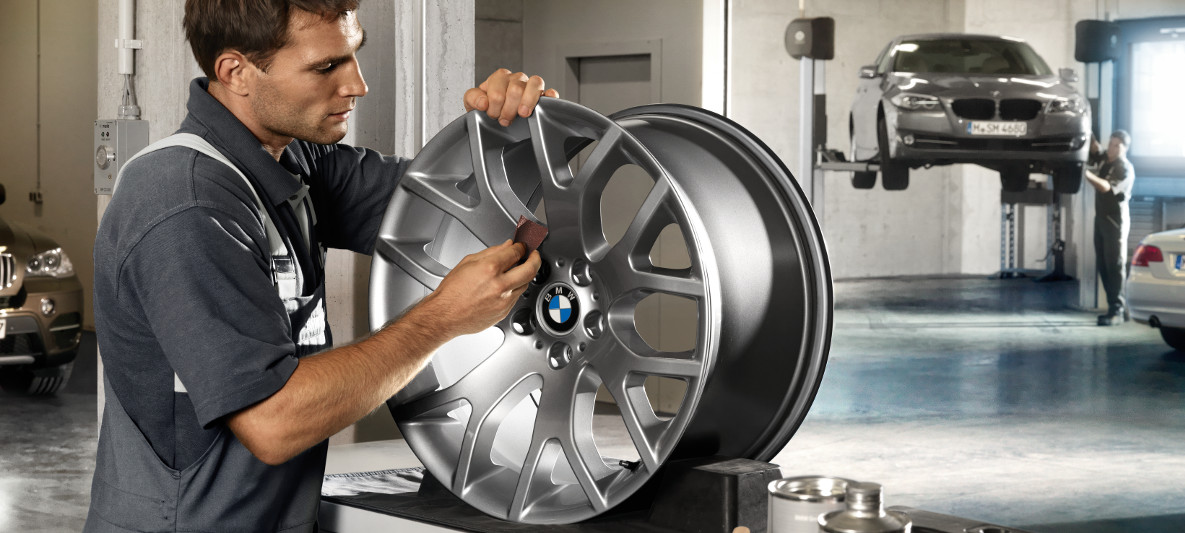 BMW POPRAVKA FELNI.
Samo trenutak nepažnje je dovoljan da oštetite felne, na primer od ivičnjak. Kontaktirajte vašeg BMW Servisnog partnera radi profesionalne popravke feni i bezbedne vožnje.
Obično se radi o sitnicama koje se mogu popraviti i ofarabati inovativnom tehnologijom tokom BMW popravke felni. Vaša BMW felna će ponovo izgedati kao nova. Zamena felne je potrebna samo ako je došlo od ozbiljnih oštećenja.