ORIGINALNI BMW AKSESOARI ZA BMW SERIJE 6 GRAN TURISMO.
Dodatna oprema i poboljšanja dizajna za BMW Serije 6 Gran Turismo.
Svi vozači BMW vozila uživaju u zadovoljstvu vožnje. Originalni BMW aksesoari postoje kako bi ispunili vaše specijalne želje. Nudimo široki izbor individualnih dodataka i dodatne opreme koja je savršeno prilagođena vašem vozilu BMW Serije 6 Gran Turismo u kvalitetu, dizajnu i performansama, nudeći vam maksimalnu dodatnu vrednost – šta god da imate na umu.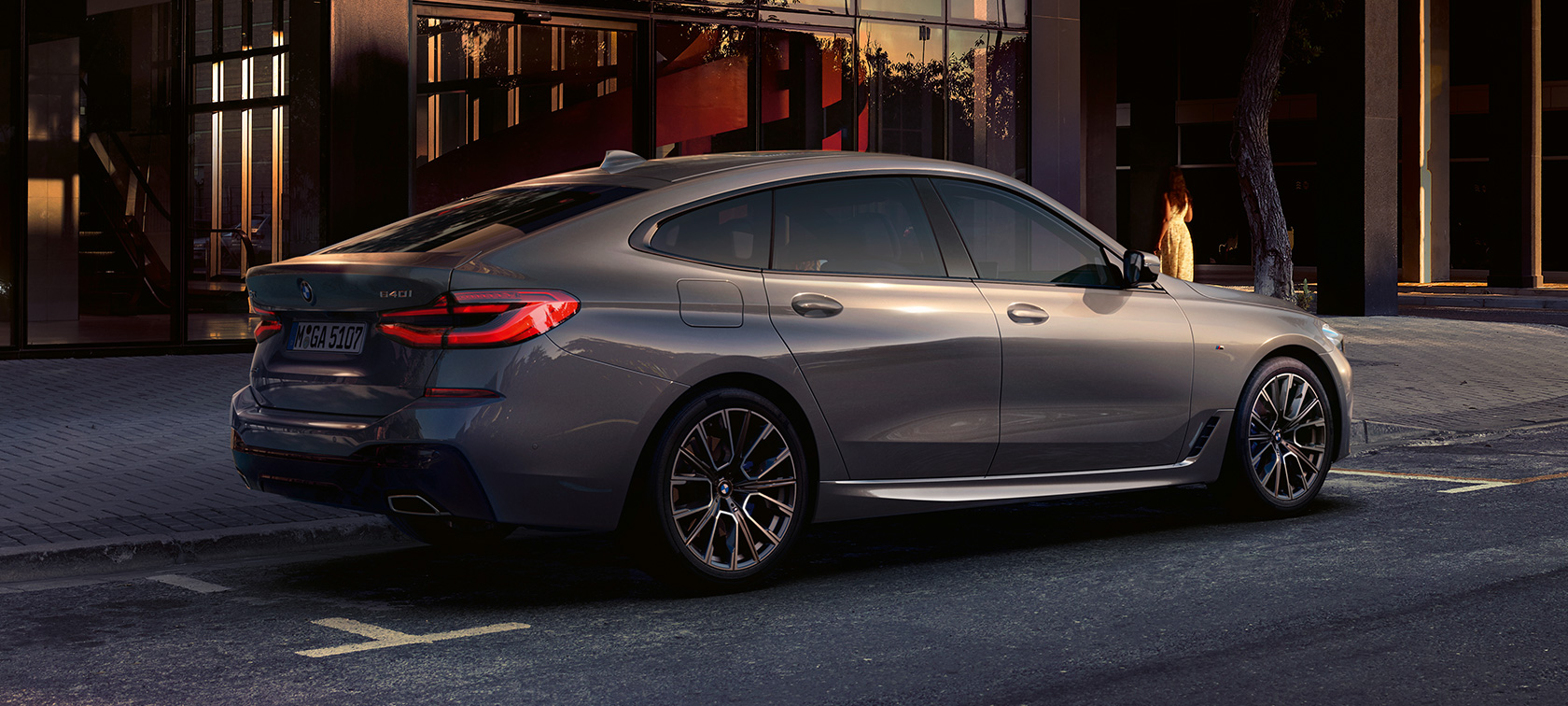 Aksesoari za eksterijer
Aksesoari za enterijer
BMW aluminijumski toćkovi 21" u V-spoke stilu 687 Bicolor, jedan prednji točak bez gume.
BMW aluminijumski točkovi 21" vrhunskog kvaliteta u V-spoke stilu 687 dizajnirani su u boji Bicolor Jet Black, brušeni, sa zarolanom felnom tako da vozilo ima neverovatno ekskluzivan izgled sa tom dvotonskom estetikom. Jedan prednji točak, veličina točka 8.5 J x 21, bez gume.
BMW zadnji nosač za bicikl Pro 2.0
BMW zadnji nosač za bicikl Pro 2.0 je lak a opet snažan i može da nosi do 60 kg. Izuzetno lak za rukovanje, može da prenese dva bicikla ili e-bicikla (može se proširiti da se smeste tri bicikla). Funkcija nagiba u svako doba dopušta lak pristup prtljažniku.
BMW krovna kutija 520 crna/titanijum srebrna.
Moderna krovna kutija u crnoj boji sa titanijumskim srebrnim bočnim panelima ima kapacitet od 520 litara i kompatibilna je sa BMW sistemima krovnih šina. Usled činjenice da se može otvoriti s obe strane i toga što ima trostruko centralno zaključavanje, zgodna je za utovar i zaključavanje zbog zaštite od krađe.
BMW patosnice za sve vremenske uslove prednje.
Savršeno uklopljene, trajne patosnice za sve vremenske uslove sa uzdignutim rubom i elegantnim dizajnom štite prostor za noge od vlage i prljavštine. Crne su i sadrže umetke od nerđajućeg čelika.
BMW prostirka za prtljažnik.
Trajna, anti-slip, vodootporna uklopljena prostirka sa uzdignutim rubovima na svim stranama i lepim dizajnom štiti prtljažnik od prljavštine i vlage. Dizajnirana u crnoj boji sa umetkom od nerđajućeg čelika, savršeno se uklapa u enterijer.
BMW univerzalni držač za sigurnosnu futrolu, Travel & Comfort.
Univerzalni držač je podesiv u smislu veličine i pričvršćen za zasebno dostupan osnovni nosač ili za opcionalnu opremu "Travel & Comfort". Omogućava sigurno postavljanje širokog raspona Apple ili Samsung tableta sa BMW sigurnosnom futrolom od 7" do 11". Može se okrenuti za 360° i zaključati pod svakim željenim nagibom.
BMW vešalica za odeću crna, "Travel & Comfort".
BMW vešalica za odeću omogućava kačenje odeće iza naslona za leđa. Zahvaljujući spojki za uglavljivanje, može se pričvrstiti bezbedno od sudara za zasebno dostupan osnovni nosač ili za opcionalnu opremu "Travel & Comfort". Zahvaljujući hotelskoj funkciji (standardna vešalica za odeću), može se koristiti i izvan automobila.
BMW SERVICES.
Don't take your worries on the road.
BMW sets the standards in service and is always there for you. With Breakdown and Accident Assistance, our experts are available to you around the clock for emergencies – 365 days a year. Thanks to the innovative BMW Teleservices, your BMW automatically notifies your BMW Service Partner of maintenance needs and malfunctions, so they can contact you independently. With BMW Service Inclusive, these and all other services are financially covered for the time period of your choice. Secure more time for the important things in your life: With the wide range of services offered by BMW, you are always on the safe side.

BMW Service Inclusive.
Just let go and concentrate on what really matters – enjoying the drive. With BMW Service Inclusive, you can do just that. With a single one-off payment you get all included services and maintenance tasks for a period of your choice.
BMW Teleservices.
With the innovative Teleservices of BMW ConnectedDrive your BMW helps you to keep a clear head: when maintenance is needed or in case of a malfunction it provides your preferred BMW Service Partner with all relevant vehicle data. Your Service Partner will then contact you to arrange an appointment. So you can rely on a fast and straightforward service and don't have to think of everything yourself. The only requirement: you have registered your vehicle online in the BMW ConnectedDrive Portal and have selected a Service Partner. Discover now how BMW Teleservices can bring more convenience to your life.
BMW Roadside Assistance.
The free BMW Roadside Assistance service is available to all BMW drivers around the clock, 365 days a year. A single call – and our experts are at your service, either on the phone or on the scene if required.
BMW M PERFORMANCE DELOVI ZA BMW SERIJE 6 GRAN TURISMO.
Sportska oprema za BMW Serije 6 Gran Turismo.
BMW Serije 6 Gran Turismo kombinuje eleganciju i sportski stil sa visokim nivoom putnog komfora: aksesoari visokog kvaliteta iz BMW M Performance Delova naglašava dinamični karakter ovog fascinantnog Gran Turisma.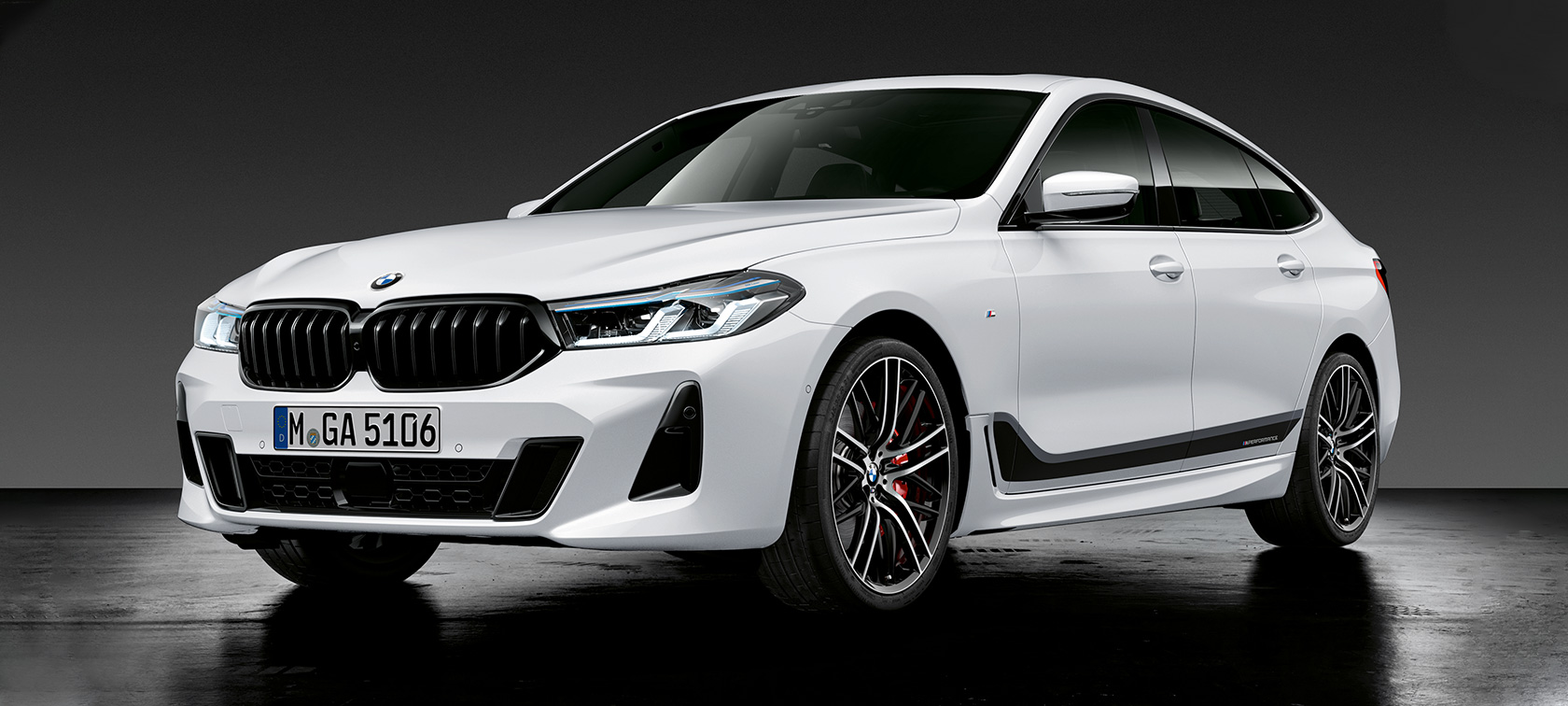 M Performance volan.
Čvrste činjenice: Zahvaljujući površini za čvrsto držanje obloženoj alkantarom, M Performance volan obezbeđuje odličan osećaj i hvatanje – za direktniji i responzivniji osećaj upravljanja. Njegov osobeni dizajn i centralna traka od crvene kože naglašavaju stil trkačkog sporta.
M Performance kapa spoljnog ogledala u karbonskom vlaknu.
Detaljno ručno itzrađene od karbonskog vlakna, upečatljive M Performance kape spoljnih ogledala naglašavaju visokotehnološki pedigre vozila. Njihov dinamični dizajn obezbeđuje za oko primamljiv vrhunski izgled i dodaje individualni atletski osećaj.
M Performance patosnice.
Vrhunski izgled, izvanredno držanje: M Performance patosnice dodaju individualni atletski osećaj prostoru za noge u vozilu. Sa M logom i M Performance slovima. Vrhunski dizajn je zaokružen rubovima koji izgledaju kao koža sa ukrasnim štepovima u kontrastnim bojama i sa trakom u M bojama.
M Performance bočne nalepnice u zamrznuto crnoj boji.
Athleticism across the board: The M Performance adhesive film in black/silver matt gives the vehicle a highly individual and dynamic appearance. The position of the adhesive film above the side skirt emphasizes the vehicle's characteristic design features and proportions.
M Performance vreće za gume.
Ekskluzivni trkački osećaj u garaži: M Performance vreće za gume štite i vozača i vozilo od prljanja. Jače držanje omogućava komotan transport točkova. Usled specijalnih oznaka, pojedine gume se mogu u svakom trenutku upariti. U sportskom M Performance dizajnu.
M Performance futrola za ključ Alkantara/karbonsko vlakno.
Futrola za ključ je od mešavine karbonskog vlakna i Alkantare, i veoma je privlačna. Zahvaljujući prednjem zavrtnju u M Blue boji, ključ je sigurno pričvršćen za futrolu. Uvek elegantna, tehnički sofisticirana – ona je jasan izraz vozačevog afiniteta prema trkačkom sportu.
BMW CONNECTED DRIVE SERVICES & APPS.
Always one step ahead.
In the BMW ConnectedDrive Store you will find a large number of innovative apps and digital services that link you with your BMW and the world. Click on the button below to see an overview of the broad range offered by BMW ConnectedDrive. Discover practical applications such as Real Time Traffic Information providing up-to-the-minute traffic news or the Remote Services that allow you to control your BMW by smartphone from afar. Check out which BMW ConnectedDrive services are available for your vehicle and which ones you can renew. How you benefit: even if you already own a BMW, you can still conveniently book services and apps to add on later in the BMW ConnectedDrive Store.

Pročitajte više
Including of /content/bmw/marketB4R1/master/en_BQ/publicPools/teaser-pool/medium-teasers/g32-2020/jcr:content/par-2col1/mediumcontentteaser_1317000734 failed
FUEL CONSUMPTION AND CO2 EMISSIONS.
BMW 640i xDrive Gran Turismo:
Fuel consumption in l/100 km (combined): 7.4–7.2
CO2 emissions in g/km (combined): 170–166

The information on fuel consumption, CO2 emissions and energy consumption has been determined in accordance with the prescribed measurement procedure VO (EU) 715/2007 in the version applicable at the time of type approval. The figures refer to a vehicle with basic configuration in Germany and the range shown considers optional equipment and the different size of wheels and tires available on the selected model.
Further information about the official fuel consumption and the official specific CO2 emissions for new passenger automobiles can be found in the 'New Passenger Vehicle Fuel Consumption and CO2 Emission Guidelines', which are available free of charge at all sales outlets and from DAT Deutsche Automobil Treuhand GmbH, Hellmuth-Hirth-Str. 1, 73760 Ostfildern, Germany and on https://www.dat.de/co2
The values are already based on the new WLTP regulation and are translated back into NEDC-equivalent values in order to ensure the comparison between the vehicles. For vehicle related taxes or other duties based (at least inter alia) on CO2-emissions the CO2 values may differ to the values stated here.


Pročitajte više
​
Potrošnja goriva i emisije CO2.
BMW 640i xDrive Gran Turismo:
Potrošnja goriva u l/100 km (kombinovano): 7,4–7,2
Emisije CO2 u g/km (kombinovano): 170–166

Informacije o potrošnji goriva, emisijama CO2 i potrošnji energije utvrđene su u skladu sa propisanom procedurom merenja VO (EU) 715/2007 u verziji primenjivoj u vreme tipskog odobrenja. Vrednosti se odnose na vozilo sa osnovnom konfiguracijom u Nemačkoj, a prikazani raspon uzima u obzir opcionalnu opremu i različite veličine točkova i guma dostupnih za odabrani model.

Više informacija o potrošnji goriva i zvaničnim specifičnim emisijama CO2 za nove putničke automobile možete naći u "Smernicama za potrošnju goriva i emisije CO2 za nova putnička vozila", koje su dostupne na svim prodajnim mestima i od DAT Deutsche Automobil Treuhand GmbH, Hellmuth-Hirth-Str. 1, 73760 Ostfildern, Germany te na adresi https://www.dat.de/co2

Vrednosti su već zasnovane na novim WLTP propisima i prevedene su natrag u NEDC-ekvivalentne vrednosti kako bi se obezbedilo poređenje između vozila. Za poreze i druge dažbine zasnovane (makar između ostalog) na emisijama CO2, vrednosti CO2 mogu se razlikovati od onih koje su ovde navedene.